Gas Safety Certificates (CP12) - Liverpool
Comprehensive Gas Inspection (CP12 Certificate) - Gas Safety Certificate Liverpool - Call Us Today!
From £75.00 (inc VAT) Gas Safe Registered Digital & Paper Copy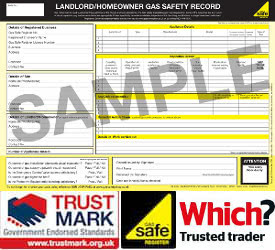 We provide Landlord or Home Owner Gas Certificates to all areas of Liverpool & Merseyside. The first appliance (normally a boiler) start from £75.00 - extra appliances are £10.00 extra (cookers, fires etc75.00). 75.00

75.00

All rental properties are required by the Gas Safety (Installation and Use) Regulations of 1998 (PDF) to hold a valid Gas Safety Record (CP12 form). A gas safety check is required by law annually and must be issued by a Gas Safe® Registered Engineer. All gas appliances in the property must be checked and the tenants have a right to be handed the Gas Safety Record by law.

During inspection we will:
Ensure appliances are functioning correctly, and no carbon monoxide is being exhausted dangerously
Safety mechanisms are operating as expected
All ventilation paths are clear with no obstructions
Dangerous gases are being removed safely (Carbon Dioxide & Carbon Monoxide)
Ensure appliances are installed safely
Among various other inspections. Once successfully complete your Gas Safety certificate will detail the following:
The address of the property we inspected
Any defects which have been identified and the action which has been taken
The registration number, name and signature of the engineer who performs the inspection
The name of the Landlord and their address
A description of each appliance/flue that has been inspected
If you are a landlord, you are held responsible by the Gas Safety (Installation & Use) Regulations of 1998 to ensure all gas appliances, flues and fittings in the property are deemed safe and working correctly. Poor maintenance and safety checks can result in extremely dangerous carbon monoxide or carbon dioxide being leaked - this is known as 'spillage'. For example, if your flue is operating incorrectly, it will not be removing the resulting gases from combustion - these are extremely toxic and dangerous. Carbon monoxide is odourless.
As documented above, a Landlords Gas Safety check must be completed every 12 months. You must ensure the regular maintenance and repairs of flues, appliances, pipework in the property. This only applies to appliances you supply to your tenant.
As a landlord, you must issue a copy to your tenant within a time frame of 28 days from the certificate being completed by a Gas Safe Registered engineer.
Our gas certificate cost is start from £75.00 which includes the VAT (ex. VAT £62.50). This includes the boiler and extra appliances are £10.00 inc. VAT each.
Our Gas Certificate Commitments
No Sub-Contractors - All staff are directly employed
Gas Certificate appointments to coincide with our customers schedules.
Up-front and clear pricing structure.
Gas Safe® engineers will perform the safety checks and complete the certificate.
Gas Safe® Registered (CORGI) - all engineers.
No hidden costs.
Old-fashioned values of customer service.

Gas Safety Inspection FAQ (click to expand)
Q: I need a gas safety certificate for selling a house/property - is this standard?
A: It is becoming more and more popular, yes - people are also obtaining electricial certificates now.
---
Q: How much does a gas safety certificate cost?
A: For domestic properties (for landlords and homeowners) a boiler is £75.00 which includes the VAT (£10.00 per extra appliance). This is a full gas safety certificate check that landlords require to rent their property.
landlord gas safety certificate start from: £75.00 inc. VAT for the boiler (£10.00 inc. vat per extra appliance)
Homeowner gas safety certificate start from: £75.00 inc. VAT for the boiler (£10.00 inc. vat per extra appliance)
---
Q: My landlord gas safety certificate expired - can this be done quickly?
A: Yes - we can often complete the certificate on the day you book the CP12 Gas Safety Certificate. There are legal grace periods - however, this will depend on the date of the previous certificate - contact us and we can advise. Landlord gas safety certificates Liverpool based are required by law.
---
Q: What happens if my property fails the Gas Safety Inspection? What does 'Not to current standards' (NCS) mean exactly?
A: During the gas inspection, dangerous situations may be encountered which we are legally obligated to make safe. This can result in an appliance been 'capped' or disconnected from the gas supply. The engineer will explain to you why we have had to take immediate action.
We can provide you with costings to carry out the required repairs to rectify the dangerous situation. You are not obligated to have the remedial work carried out by ourselves. We do not want to fail appliances by default to quote for corrective action. If the property is safe, the certificate will pass. The vast majority of gas certificates we conduct pass inspections.
Reports may contain references to an appliance (or an aspect of the installation) being 'Not To Current Standards' which is abbreviated to 'NCS'. This usually means that since installation the regulations have been updated. This will not cause the gas certificate to fail but will contain advice on remedial work required. You can then decide on the recommended remedial actions.
---
Q: What are my responsibilities as a Landlord renting my property to the general public?
A: Firstly, all checks (and potential repairs) must be carried out by a registered Gas Safe business, like ourselves. This extends to rental properties, housing associations, private sector properties, bed and breakfasts, chalets, flats, cottages and caravans.
You must provide maintenance of all pipework, flues and appliances which you have supplied. If the tenant has provided their appliances, you are not responsible for them, but you would be responsible for the gas pipework supplying the appliance. Appliances should be serviced in regulation with the manufacturers' instructions.
You are legally required to have a gas safety inspection performed on an annual basis to ensure they are operating safely, and the installation is up to a safe standard.
It is also good practice to explain to your tenants where the gas can be disabled from.
---
Q: As a letting agent, what are my legal requirements with regards to gas safety inspections?
You must by law ensure yourself, and the landlord is in the clear understanding of who is responsible for the annual gas safety checks. This is usually explained and stated in the contract. As the agent, you must ensure this is clear between you and the landlord.
If you are in doubt of the properties gas installation, you must inform the landlord. You must also ensure the company or person doing the inspection is Gas Safe registered.
---
Q: Can you remind me annually when my gas certificate is due?
A: Yes. When we complete a gas certificate, you will be notified a month from when the next is due. We usually do this via email.
---
Q: How long does an inspection take?
A: Usually between 30-45 minutes, depending on the number of appliances in the property.
---
Q: How can I check the Gas Engineer visiting my property is Gas Safe Registered?
A: All our Gas Engineer are Gas Safe Registered under our business gas safe identification (located at the top of this page). You can also ask to see their Gas Safe I.D cards on arrival.
---
Q: Can I receive a digital copy of the Gas Certificate?
A: Yes. Please let a member of staff know you would like a digital copy when booking in the gas certificate appointment.
---
Q: As a Landlord should I install a carbon monoxide alarm?
A: It is highly recommended you do, yes. They are cheap and can save lives. They are not a substitute for an annual gas safety inspection. You can usually pick them up for around £10.00. Ensure they comply with British Standard EN 50291 and have a British/European approval mark.
---
Q: What areas of Liverpool do you carry out Gas Certificates in?
A: All areas including all areas of Liverpool, Wirral, St. Helens, Knowsley. Please view our service areas. If in doubt, just give us a call.
---
Q: Must my tenant allow access for the certificate to be completed?
A: Your contract should state you are allowed to access the property for necessary safety checks to be conducted. If you are struggling to gain access to the property you should document all your attempts including letters sent. This will show your efforts in seeking to gain access.
---
Q: Does the Gas Safety Inspection include servicing of appliances?
A: This is a common misunderstanding. The gas safety check only includes inspection of the properties gas installation and appliances, including checking for any leaks and testing safety devices are working correctly. This also includes checking the flue, ventilation and checking the gas is being combusted correctly.
A standard certificate does not include any repairs which we may recommend. Servicing, for example, a boiler service, is recommended for keeping the boiler in good working order and is an independent service to the gas safety inspection.
---
Q: Must I pay for the gas safety inspection if it fails?
A: Yes. The certificate will detail what requires being done for the certification to pass.
---
Q: We/I have multiple properties in Liverpool and would like gas inspections carrying out. Do you offer bulk discount for landlords?
---
Areas we cover in Liverpool
Our Gas Certificate Inspections are available to all areas of Liverpool (Merseyside), Wirral, St. Helens, Knowsley and Sefton. Please click Expand to view a list of areas our gas certificate inspections apply to. If you are not sure, please give us a call.
Expand Areas
Gas Certificate Inspection Service Areas
Aigburth
Aintree
Aintree Village
Allerton
Anfield
Belle Vale
Blundellsands
Bootle
Bowring Park
Brighton-le-Sands
Broadgreen
Burscough
Childwall
Clubmoor
Crosby
Croxteth
Croxteth Park
Dingle
Dovecot
Edge Hill
Everton
Fairfield
Fazakerley
Ford
Formby
Garston
Gateacre
Gillmoss
Grassendale
Great Altcar
Hale
Halewood
Hightown
Hunts Cross
Huyton
Ince Blundell
Kensington
Kirkby
Kirkdale
Knotty Ash
Knowsley Village
Litherland
Little Altcar
Little Crosby
Liverpool City Centre
Lunt
Lydiate
Maghull
Mawdesley
Melling
Mossley Hill
Netherley
Netherton
Norris Green
Old Swan
Ormskirk
Orrell
Orrell Park
Page Moss
Prescot
Rainhill
Roby
Scarisbrick
Seaforth
Sefton Park
Sefton Village
Speke
St Michaels Hamlet
Stockbridge Village
Stoneycroft
Tarbock
Thornton
Toxteth
Tuebrook
Vauxhall
Waddicar
Walton
Waterloo
Wavertree
West Derby
Whiston
Woolton
Widnes
All Areas of Liverpool
---