Commercial Gas Safety Certificate
From £120.00 Commercially Gas Safe CP17 Certificates Business, Non-Domestic - Commercial Property
Our commercial engineers can issue a commercial gas safety certificate for your business, commercial property or large gas boiler installations. We are a Commercial Gas Safe certified business operating throughout the Merseyside area. Our clients include schools, care homes, warehouses and many companies within the Liverpool City Centre.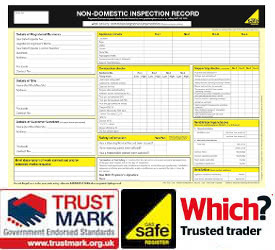 A commercial gas safety certificate can only be performed by a commercially certified gas safe engineer/business, like ourselves. A domestic engineer cannot issue a commercial gas safety certificate. Our engineers can attend your commercial property (or large boiler installation) and perform a multitude of gas safety checks against each gas appliance. This includes a visual inspection, general functionality, operational testing and pressures. Gas appliances use flues/extraction systems to safely and efficiently extract dangerous gases, byproducts of gas appliance combustion - these will be audited for safety too.
An exhaustive list of safety checks has been developed and placed into law which documents the necessary inspections required to ensure safety. If an incident should occur with your commercial installation, then often the insurance policy will be invalidated if no commercial gas safety certificate exists. It is imperative that your certificate is valid and remedial works are completed promptly.
Laws governing commercial gas safety clearly place responsibility on the owner/landlord (or employer) to ensure that all gas appliances and their installations are up to standard and most importantly - safe. You should check with your agent, landlord or leaseholder who is responsible for these duties. You must have an inspection completed every 12 months.
Commercial Gas Safety Certificates
- Care Homes
- Business Premises/Property
- Large Boiler Installations
- Warehouses
- Schools
- Medical Centres
- No Sub-contractors. All our gas engineers are Gas Safe registered
- 24/7 Customer Service
- Honest, Genuine Advice
- Over 13,000 Customers Thoughout Merseyside
Commercial/Business Gas Safety Certificate

Commercial Gas Safety Inspection FAQ (click to expand)
Q: When must I have a gas certificate completed?
A: You must by law have an inspection every 12 months in which a certificate can be issued.