New Boiler or Bathroom? We offer Buy Now Pay Later - 12 months! 0% interest! We offer up to 10 year finance. Contact us today to discuss finance options!
Blocked Drains Liverpool
Comprehensive drain unblocking service throughout Merseyside/Liverpool
Domestic/Home Drain Jetting - £85.00 Fixed Costings Qualified Engineers Rapid Response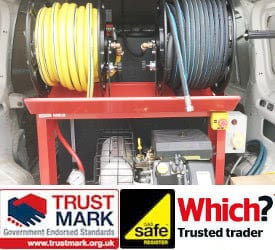 Our experienced drainage teams can unblock your drains, toilets & sinks. Call us today - 0151 438 2297.
When our drains become blocked or clogged up, reducing performance and throughput, it can be a real headache never mind very smelly! Drain repairs are usually neglected until further issues start to emerge which include rodent/vermin infestation, harsh smells and leakage around foundations which may lead to more severe problems.
James Foy Plumbing is Liverpool's Premier drain repair service available to you 24/7 all year around. Our drainage team are fully certified, insured and experienced to solve all your drain issues, whether they are blocked drains, toilets, sinks or baths. Our vehicles are fully equipped with the latest drain cleaning technology, including high-pressure water jetting machine, electro-mechanical cable spirals and other no dig technology avoiding significant construction projects, such as excavating up your front drive!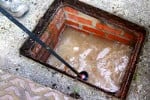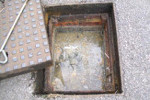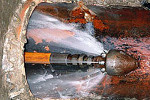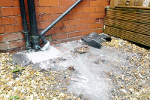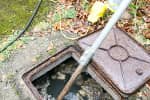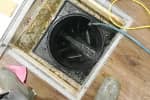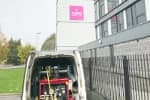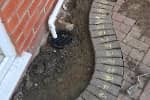 The causes of blocked drains are usually very standard and consist of a small array of possibilities. Typically, these include a build up of fats, tree root damage, child product blockages (baby wipes etc) and plant vegetation.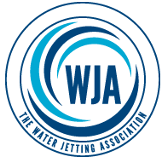 If you are experiencing blocked drain problems, please feel free to contact us. Our team will handle everything for you with traditional fair values, professionalism and most importantly excellent workmanship. If you are experiencing blocked drain problems, please feel free to contact us. Our team will handle everything for you with traditional fair values, professionalism and most importantly excellent workmanship.
"Excellent service, can't fault Ryan who attended. Thank you!" - Janet Hughes
Drain Jetting
Drain jetting is an effective & efficient method of clearing drains. Traditionally, it would typically have been performed with standard drain rods. However, drain rods have fundamental flaws, such as being unable to properly navigate around corners or reach other difficult to clear areas. Our high-pressure jetting equipment allows us to navigate around bends and apply far more pressure than manual rods on the blockage.
Our drain jetting equipment can be utilised on many types of drains and can usually remove the blockage, regardless of the obstruction. The water expelled from the jetting machine is under very high pressure, causing it to spray with tremendous forces. It can easily remove grease, scale, foreign objects and fat blockages.
Our Drainage Team Promises
Blocked drains & repair times to coincide with our customers schedules.
Up-front drainage unblocking/repair pricing structure.
Certified Personnel will attend to your drainage requirements.
No hidden costs.
Old-fashioned values of customer service.
Blocked Drains Service Area

How much does it cost to clear a blockage in my home/domestic property?
We charge a fixed cost of £85.00 which includes VAT. This covers 1 hour of our drainage teams time. Should it take longer than 1 hour we would discuss this with you during our visitation. It is impossible for us to foresee all unknown drainage issues.
What commonly blocks drains in domestic properties?
Usually, it is the build-up of waste, toilet roll, baby wipes, leaves, stones, gravel - just about everything you can imagine. Nappies cause quite a lot of blockages as people still attempt to flush them as opposed to disposing of them via a suitable bin.
When do I pay?
You can pay our engineer direct or call the office to make payment. Payment is due immediately after works have been conducted.
Will a high powered water jet damage my drains?
No - the power is moderated and controlled. Our jetting machines are state of the art and include a throttled peddle so we can easily maintain the correct pressures. Our machines can unblock the vast majority of drain issues, including root tree penetration, heavy fat build up and excessive food blockages.
Do you supply your own water?
No, generally drainage jetting vans will attempt to connect to the customers' water supply via an outside tap. Alternatively, we carry many connections, and we can usually connect to a kitchen or bathroom tap. It is very rare we cannot connect to a customers' water supply.
How does a drain jetting machine clear the blockage?
Our vans contain high powered water jetting machines. Primarily, they expel water through a jetting hose and nozzle at extremely high pressures. As the water is discharged at enormous pressure, it propels the hose down the drain line (with the hose being correctly handled). Rear jetting nozzles propel the hose to the blockage and once located will break and dislodge the blockage, restoring flow.
If my drain is collapsed or a large object is blocking my drain, do I still need to pay?
Unfortunately, yes. We would have still attended and attempted to resolve the blockage. We are more than happy to give you further advice and assistance at this point.
Cleaning/clearing drains and unblocking? What is the difference?
When customers call us with a blocked drain, it can often be confused with us thoroughly cleaning/or clearing the drainage system. Unblocking a drain will consist of us locating the blockage and attempting to remove the obstruction, to restore the flow of the drains. Clearing/cleaning the drains is a maintenance service - the drains will be jetted to eliminate waste, scale, silt, grease, fat and just about everything else from the drain walls.
I can't find a man hole - will you be able to clean/unblock my drains?
Yes. There are other solutions but we will be required to visit and survey the property.
Do you offer an emergency drain unblocking service?
Yes - call us today. We can often be with you the same day.
Are you a local company?
Yes - we only operate within the Merseyside area
Will you clean the area of sewage and waste?
Absolutely. The area will be hosed down once we've completed the drain works.
How long does the drain clearance process take?
The real answer is that it depends. The majority of drain clearances take 1 hour. However, we can often discover other issues during this time and would offer you a quotation if required.
How much does it cost?
A standard flush for 1 hour is £85.00 inc. VAT.
Can you unblock toilets too?
Yes - we can use flexible rods internally.
Do you offer a free quotation?
With drain clearance/blockage removal, no. Usually when peoples' drains are blocked it 'just' requires jetting, so there isn't much to quote unless further issues are identified.