Bathroom Fitting & Installation in Liverpool
Comprehensive Bathroom installation throughout Merseyside/Liverpool. Our team of bathroom fitters come highly recommended - view our reviews!
Free Quotation CAD/Digital Design Service View Our Work Complete Service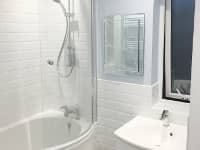 Welcome to our Bathroom Installation/Fitting section. We are specialists at bathroom installation and can design, create & build the bathroom you have always wanted. Call us today to make an appointment with a member of our team on 0151 438 2297 or contact us online. All photographs you view on this page and in our bathroom photo gallery are original installations we have completed in Liverpool & Merseyside.
Our team of dedicated bathroom fitters can handle all aspects of your new bathroom installation. We can develop your bathroom from an empty shell to a finished bathroom, including all plumbing, tiling, electrical & plastering requirements. From start to finish we can manage your whole project and take care of all the organisational needs, avoiding you employing various trades to complete each aspect of the job.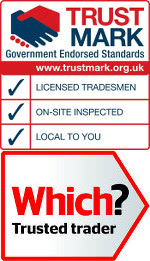 When choosing a company to fit your new bathroom, you need a company who are reliable and have an excellent track record with a solid reputation for excellent workmanship - a company who isn't afraid to publicly show their work which includes 100s of our photographs online. We would also be delighted taking you to see previous work we have completed to show you the quality you can expect.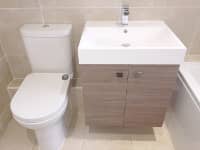 Our service offers a full bathroom fitting process. We can remove your old bathroom, fit your new bathroom including all services, such as plumbing, electrics, tiling and finishing. Most customers want a complete service, and that is precisely what we aim to offer. However, our decades of combined experience shows us customers get much better results and reduced organisation stress if you employ a company like ourselves to carry out all aspects of the necessary installation. We do not complete parts of projects, sorry.
We have excellent relationships with bathroom suppliers in Liverpool. During our bathroom installation process, we would be delighted to show you around their showrooms and can offer you discount on their products through ourselves.
Bathroom Fitting & Installation - FAQ (click to expand)
---
Q: Can I view previous bathrooms your company has completed?
A: Absolutely. We usually take customers to see a previous bathroom completed, so you know the standard to expect. It also starts the project off to a good start with the potential customer more at ease.
We have fantastic working relationships with our customers. If you see a bathroom on this page, we will be able to take you to visit that exact bathroom once agreed with our previous customers.
---
Q: Would you be able to design my bathroom?
A: Yes! We offer a bathroom design and installation service. We use ArtiCAD HD to design your bathroom. ArtiCAD is professional software which allows you to visualise your bathroom design in HD quality in front of you. Most companies don't offer this service. You can see some examples here.
---
Q: How long does an average bathroom take?
A: The project time mostly depends on your bathrooms requirements. Usually, most full bathrooms take about ten working days. This will include the removal of the old suite, first fix of plumbing and electrics, boarding/plastering, tiling, second fix, bathroom suite fitting and polish.
All of our customers have different requirements and budgets. A time scale for your bathroom fitting will depend on your precise requirements. At times, we're knocking two rooms into one bathroom, replacing/moving windows - it just all depends. Each project is slightly different, but we love a challenge!
Generally, we would be able to give you a rough guide to time scales during the quotation phase. Many of our customers, especially during the summertime, ask us to complete the bathroom removal and fitting while they're on their summer holiday.
---
Q: Can you supply the bathroom?
A: Yes. We have excellent relationships with various suppliers and will be more than happy assisting you in selecting the perfect bathroom suite.
We offer a service in as much as a bathroom fitting. What that means is we guide you through the process. We don't expect our customers to calculate the dimensions, sizes etc. of the bathroom suite and we merely fit the bathroom.
We can meet you at suppliers to guide you in selecting the correct size shower trays, baths, radiators etc. to ensure a smooth flowing project.
As you can imagine, we purchase a lot of bathroom suites for our customers. Thus, we usually get a discount at various suppliers due to our turnover with them. We are happy to pass any trade discounts onto our customers.
---
Q: Do you handle the organisation of multiple trades?
A: Absolutely. You will not be required to source multiple trades. We will handle your new bathroom project from start to finish.
Customers often believe that sourcing individual trades, for example, sourcing their own plumber, electrician, bathroom fitters, joiner etc. will allow them to save money (effectively managing the project themselves). Our experience is it's often a false economy without someone overseeing the entire project and managing particular trades correctly. The results often vary too - our experience is it causes chaos and stress for the homeowner.
Our advice would be to contract a company who directly employ all the required labour. This will ensure a smooth transition between the trades and allow an excellent standard to be maintained throughout your new bathroom.
James Foy will manage your project directly with yourself.
---
Q: Do you employ qualified tradesmen?
A: Yes. All our staff are fully qualified in their selected trades.
Our electricians (James Foy Electrics) are NICEIC registered – D609344. If any gas pipes require relocating, or general gas works, our Gas Safe number is – 563549.
---
Q: Do you offer a guarantee?
A: Of course! We offer a 12-month guarantee on all our workmanship. Reputable suppliers will offer 10-25 year guarantee on bathroom fittings such as the bath or shower.
---
Q: Will you ensure during the bathroom refurbishment the area is kept tidy?
A: Absolutely. We are very fussy on keeping your home tidy. At the end of each day the working area will be cleaned, hoovered and rubbish removed from the site (or into the skip). Many customers are surprised just how clean we keep the area of works.
---
Q: Are the photographs on your website of works you have completed?
A: Yes. All photographs are from real bathroom projects our bathroom installation teams have completed.
---
Q: Do you offer finance on bathrooms?
A: Our bathroom installation service can be completed with finance, yes. You can view more about our finance options on our finance options page.
We would be more than happy guide you through the finance process to achieve your new bathroom.
---
Q: Can you attend to moving of doors/walls in the bathroom?
A: Yep! We can remove walls, add walls or move doors.
Photographs of Bathrooms fitted in Liverpool