New Boiler or Bathroom? We offer Buy Now Pay Later - 12 months! 0% interest! We offer up to 10 year finance. Contact us today to discuss finance options!
Commercial Gas Engineers Liverpool
Liverpool Based Commercially Gas Safe CP17 Certificates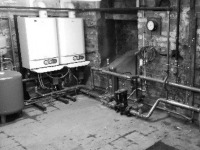 Our commercial gas safe engineers can conduct commercial gas works for your business, warehouse, school or care home. Being commercially gas safe enables us to perform works on significant gas installations or gas in commercial environments.
A domestic gas engineer can not complete commercial gas boiler services, installations, and maintenance. We strongly recommend that business proprietors reach out to a certified commercial gas safe company for their commercial gas requirements.
Our commercial gas engineers are available to visit your premises for emergencies within 1 hour. You can trust us to get your business back up and operating within the most efficient timeframe possible.
Commercial Gas Safety Certificates
- Care Homes
- Business Premises/Property
- Large Boiler Installations
- Warehouses
- Schools
- Medical Centres
- Emergency Commercial Repairs
- No Sub-contractors. All our gas engineers are Gas Safe registered
- 24/7 Customer Service
- Honest, Genuine Advice
- Over 13,000 Customers Thoughout Merseyside
Commercial Gas Engineer Areas