Boiler Repair Liverpool
Repairs From £85.00 Rapid Response
Boiler Breakdown Service - Call us today. Our heating engineers are fully qualified with years of experience. We conduct routine and emergency boiler repairs throughout Liverpool & Merseyside.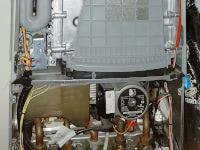 Call our friendly staff today to book your boiler repair appointment - 0151 438 2297. We specialise in one-off boiler repairs too. We cover all areas of Liverpool/Merseyside.
View our boiler service page for information on a boiler service.
Your boiler will eventually go wrong and require repairing. It will strictly follow Murphys Law. Anything that can go wrong will go wrong. It usually always happens at an inconvenient time too. Often, being isolated from any heating or hot water is unacceptable for your family, business or tenants.
However, we have your boiler repairs and boiler breakdowns covered. Our certified personnel have decades of combined experience repairing boilers (conventional & combi boilers). All our directly employed engineers are Gas Safe registered. Our company is family-owned with the majority of our business coming from repeat business and happy customers. We understand the unexpected hassle of your broken boiler. Modern homes often have combi boilers which can result in losing both your hot water and heating (many conventional systems will often contain an electric immersion to at least provide some hot water). Living within without hot water or heating is disruptive and requires an immediate response.
Our boiler repair Liverpool services cover all of Liverpool/Merseyside. We can fix most modern and older boiler models once the problem has been identified through our diagnostics.
As a labour only company, if your boiler repair requires new parts, we will source these to you at our cost. We can often attend immediately or arrange a suitable time for one of our engineers to attend your property, scheduled around your calendar.
We have access to most boiler parts from Monday to Friday 8am - 5pm. However, there are parts which require overnight shipping.
Most boiler parts from all major manufacturers generally come with a 12 month guarantee.
Our Boiler Repair Promises
No Sub-Contractors - All staff are directly employed
Expert in domestic boiler repairs.
1 Hr Response Times*
Excellent workmanship with a 12 month guarantee.
Appointment times to coincide with our customers schedules.
Up-front, fixed and clear pricing structure for your boiler repair.
Certified Personnel will attend your boiler repair. All our gas engineers are Gas Safe Registered.
Gas Safe® Registered (CORGI). All boiler repairs are completed by trained and certified boiler engineers.
No hidden costs.
Old-fashioned values of customer service.
We absolutely recommend that you should never, ever attempt to repair your own boiler. It is illegal for any person other than a Gas Safe® engineer to proceed with work on boilers. Never, ever attempt to do anything technical with your boiler.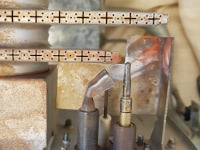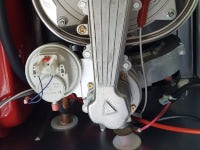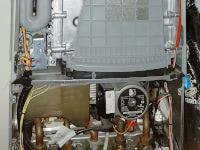 Boiler Repair Areas

Boiler Repair Liverpool
---
Q: Do you repair combi boilers?
A: Of course. Combi boilers are extremely popular, but usually, create more of an emergency situation. It can be common for the property to lose both heating and hot water. Combi boilers provide both hot water and supply your heating demands. You will not have a hot water cylinder - when you turn your hot water tap on, the boiler will sense the flow of water and immediately begin supplying hot water. They provide hot water in real-time with a sort delay (depending on the pipe runs).
You will not have separate hot water storage. If your combi boiler is broken, contact our office today - we conduct all combi boiler repairs.
---
Q: Do you repair conventional boilers (heat only - system/regular boilers)
A: We repair all gas boilers, whether they be combi (combination) or heat only (system/regular boilers). These systems are usually in older homes or installed in larger homes with multiple bathrooms.
You will have a system/regular heat only (conventional boiler) if you have a hot water cylinder (unvented or open vent) installed in your home. You may also have storage tanks (header tanks etc) in the loft space. However, when a boiler conversion to a combi is completed, often the old tanks are left in the loft space and effectively linked out of the system, thus become redundant.
Our Liverpool boiler repair services are available on all conventional (heat only) gas boilers.
---
Q: My boiler isn't working - the boiler pressure is low?
A: This problem is widespread - it happens in almost all homes. A common cause is the expansion vessel (these can be internal or external). We can attempt to re-charge the vessel, or, if required, replace it.
Another common reason is a leak on your central heating system. Often, it can appear to homeowners that the boiler is faulty. In fact, your central heating system is comprised of many other components, such as radiators, valves, TRVS etc. If these components are defective, they could be causing a loss of pressure in your system.
---
Q: Does my boiler need a boiler service or boiler repair?
A:This is a fairly common misconception people have concerning boilers. The simple way of considering about it is to determine: is the boiler not working/broken? If so, you require a boiler repair. If your boiler is in fully working condition and your desire is for maintenance, then a boiler service is likely what you're looking for.
If your boiler was recently installed, it is worth noting that all boiler manufacturers insist you have the boiler serviced annually to maintain the warranty.
Consider a Baxi 600 series - these boilers come with a 7-year warranty. If you summon on the guarantee in year 3 and it's not been serviced annually, Baxi may void the warranty.
---
Q: Will you provide a fixed cost for the boiler repair?
A: Yes - a fixed cost will be discussed before any work commences. We offer a 12-month workmanship guarantee. Boiler manufacturers/suppliers will provide warranty on individual parts which can vary (we can confirm this with you). You can be certain of no hidden costs.
---
Q: I know the parts the boiler requires - can you quote without boiler repair diagnosis?
A: Unfortunately, we cannot quote without a thorough diagnostic procedure conducted by our gas engineers. We would not want to give you a costing, for example, costing for the supply and installation of a new boiler fan if this was incorrectly diagnosed by a third party. We wouldn't want to delay the correct repair for your gas boiler, thus we recommend us performing boiler diagnostics to correctly ascertain the fault.
---
Q: Will you provide a fixed cost for the boiler repair?
A: A member of our team, a qualified Gas Safe engineer, will attend your property. They will act quickly to diagnose the issue with your boiler. Once the boiler issue has been identified, the engineer will explain precisely the problem and the correct rectification. They will also discuss a fixed cost with you for the boiler repair. However, if parts are required, we may have to give you the quotation 1-2 hours later after parts have been costed from local suppliers.
Customers will often look online at the required boiler parts costings. We do not source parts online via eBay or Amazon. We only use local suppliers with a point of direct contact. We do this for a couple of essential reasons: Firstly, the returns will be much quicker and more straightforward than online returns. Secondly, we can ensure the parts are genuine and come with a warranty. Many of the parts you see online are in fact second hand refurbished parts with no 'real' warranty.
---
Q: What should I top-up my boiler pressure to?
A: You should top up your pressure to 1-1.5 bar. Consult your boilers manufactures instructions or call us if you're having difficulty.
---
Q: What happens during a call out?
A: A member of our team, a qualified Gas Safe engineer, will attend your property. They will act quickly to diagnose the issue with your boiler. Once identified, the engineer will explain precisely the problems. They will also discuss a fixed cost with you for the repair. However, if parts are required, we may have to give you the quotation 1-2 hours later after parts have been costed.
---
Q: If a parts are required for my boiler, can you source the parts?
A: Of course, we can. We will source the parts at our cost to you. If our customers ask, we are happy to show receipts for required components and parts
Our boiler parts are sourced from local suppliers, allowing us to repair boilers in an efficent time frame. We do not source parts from small online retailers.
---
Q: What boilers can you repair?
Vaillant
Baxi
Potterton
Ideal
Vokera
Worcester
Glow Worm
Ferroli
Ariston
and others...
---
Q: What are common boiler faults?
A: Most faults can be repaired. A number of repairs require no parts, such as small leaks or loss of pressure caused by an external issue in the central heating system. The parts which could require replacing include:
Fan
Overheat Stat
Diverter Valve
Gas Valve
PCB Board
Water Pressure Switch
Pump
The price of boiler parts range from each boiler manufacture to the next, so it is difficult to give prices until our team confirm the cost of the exact part required.
There are individual older boilers in which their internal parts are no longer available (or extremely costly, making a new boiler installation to look economical).
---
Q: What if my boiler is beyond repair as advised by the engineer?
A: We will always endeavour to repair your boiler. However, sometimes, it can be the situation where the boiler is simply beyond a repairable state. In this situation, we will explain to you the reasons why we believe it to be un-repairable and will offer to quote up a replacement boiler.
You could then source a second opinion, but generally, its fairly evident once you see the internal condition of the boiler.
---
Q: Who are legally allowed to work on my boiler?
A: Registered Gas Safe engineers only (like ourselves) - our gas engineers can be seen on James Foy Plumbing gas safe - 563549. Gas Safe replaced CORGI in 2009. Please ensure you check any company or engineer who claims to be Gas Safe. Unfortunately, there are still companies and engineers within Liverpool who conduct illegal gas boiler repairs. You can check their license via the Gas Safe website or by calling them direct on 0800 408 5500. Any genuine gas safe company/engineer will have no problem proving they're registered.
---
Q: Do I have a combination (combi) boiler?
A: The chances are yes. They are very popular. Combination boilers heat the hot water directly, in real time, and have no hot water storage/hot water cylinder. When a combination boiler is installed, the previous hot/cold water storage may have been left behind but is disconnected from the system. Your boiler may also be a system/regular boiler.
---
Q: If parts are required for my boiler repair, how long will it take to source them?
A: Usually the same day or via overnight shipping. We use multiple suppliers in Liverpool, so it usually takes at most one working day.
---
Q: Do you offer payment plans for boiler repairs?
A: To first-time private customers, no. Some of our private customers have used our services for multiple years, so an element of trust exists between us. We do allow payment plans up to a certain point for these customers. Our contracted clients, such as letting agencies do receive payment plans on occasions.
---
Q: Can I source my own parts?
A: No. We do not fit parts supplied by customers.
---
Q: Can there be multiple parts which are required for the boiler repair?
A: Yes. It can get costly depending on the parts which need replacing. The engineer will document each part which will be required. You can then make an informed decision as to whether the boiler is worth repairing or a new one would be more economical.
---
Q: Can my boiler be repaired on the same day as visitation?
A: Yes. If the fault can be repaired on the same day, it will be. However, as discussed earlier this may depend on the availability of parts.
---
Q: What areas do you cover?
A: Please view our service areas page - areas we cover. If you're based in Liverpool or Merseyside, we cover your area. Contact our friendly and efficient office staff who will begin the process of repairing your boiler. We aim to be reliable and produce quality workmanship. Customer service is at the heart of all our services.
---
Boiler Repair Photographs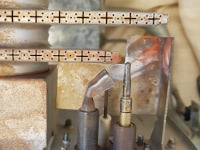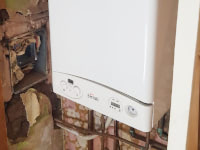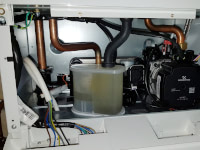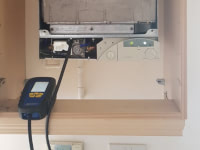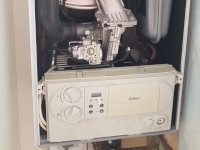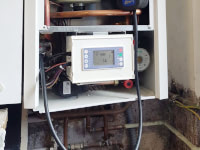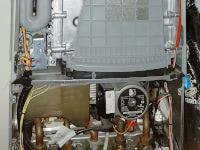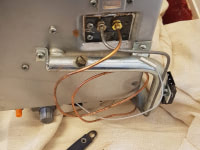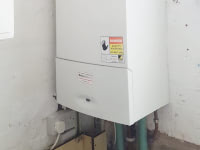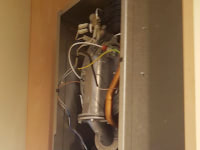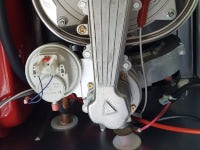 Areas we cover in Liverpool
Our boiler repair service is available to all areas of Liverpool (Merseyside), Wirral, St. Helens, Knowsley and Sefton. Please click expand to view a list of areas our boiler repair service apply to. If you are not sure, please give us a call.
Boiler Repair Service Areas
Aigburth
Aintree
Aintree Village
Allerton
Anfield
Belle Vale
Blundellsands
Bootle
Bowring Park
Brighton-le-Sands
Broadgreen
Burscough
Childwall
Clubmoor
Crosby
Croxteth
Croxteth Park
Dingle
Dovecot
Edge Hill
Everton
Fairfield
Fazakerley
Ford
Formby
Garston
Gateacre
Gillmoss
Grassendale
Great Altcar
Hale
Halewood
Hightown
Hunts Cross
Huyton
Ince Blundell
Kensington
Kirkby
Kirkdale
Knotty Ash
Knowsley Village
Litherland
Little Altcar
Little Crosby
Liverpool City Centre
Lunt
Lydiate
Maghull
Mawdesley
Melling
Mossley Hill
Netherley
Netherton
Norris Green
Old Swan
Ormskirk
Orrell
Orrell Park
Page Moss
Prescot
Rainhill
Roby
Scarisbrick
Seaforth
Sefton Park
Sefton Village
Speke
St Michaels Hamlet
Stockbridge Village
Stoneycroft
Tarbock
Thornton
Toxteth
Tuebrook
Vauxhall
Waddicar
Walton
Waterloo
Wavertree
West Derby
Whiston
Woolton
Widnes
All Areas of Liverpool